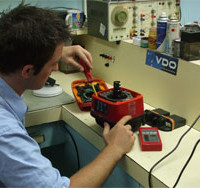 New England Instrument Co. has two fully equipped workshops with experienced technicians for the overhaul, repair and calibration of all your instrumentation and test equipment needs.
Including:
Portable Gas Detectors
Digital & Analogue Pressure Gauges
Thermometers – Digital, Bimetallic and non contact
Portable Appliance Tester Verification
Torque Wrenches
Agricultural Moisture Meters
Weighing Equipment & Scales – Agricultural & Industrial
Electrical Test Equipment
Automotive & Commercial Instrumentation
Automatic & Laser Levels
Rail Level Boards
Traceable workshop Calibration Reports available on most of the above equipment.
NEIC has also been appointed the soul authorised repair agents for TRIMBLE weedseeker systems.