PROSPECTING FAMILY PACK 1 – EQUINOX 600 + GO-FIND 66 PLUS
$1,250.00
Description
PROSPECTING FAMILY PACK 1 -MINELAB EQUINOX 600 + GO-FIND 66 + 7pc PAN PACK
EQUINOX 600
PN: 3720-0001
With innovative NEW multi-frequency technology, the EQUINOX Series redefines all-purpose detecting for the serious enthusiast. Equally adaptable for all target types and ground conditions, just set your detecting location and go!
Features:
Simultaneous Multi-Frequency

True intelligent Simultaneous Multi-Frequency for maximum performance, plus a wide range of single frequencies.

Wireless Audio Compatible

Compatible with ultra-fast wireless audio with the WM 08, and fast aptX™ Low Latency / Bluetooth headphones.

Waterproof Design

EQUINOX is fully submersible, ideal for detecting at the beach and in rivers, streams and lakes. (3m / 10-feet)

6 Custom Search Profiles

Each Detect Mode features 2 custom Search Profiles so you can save your favourite settings in each mode.

Sleek & Lightweight

Rugged and lightweight construction allows you to enjoy long detecting sessions in any environment.

Fast & Accurate Target ID

Fast recovery speed with accurate Target ID ensures you won't miss any valuable targets amongst the trash.
Detect Modes
Equally adaptable for all target types and ground conditions… just select your detecting location and go!
| | | |
| --- | --- | --- |
| Great for high-trash recreational areas, including most general detecting. | Ideal for detecting in historical fields for the widest range of target sizes. | Optimised for all salty conditions – dry sand, wet sand, surf, underwater.  |
User Interface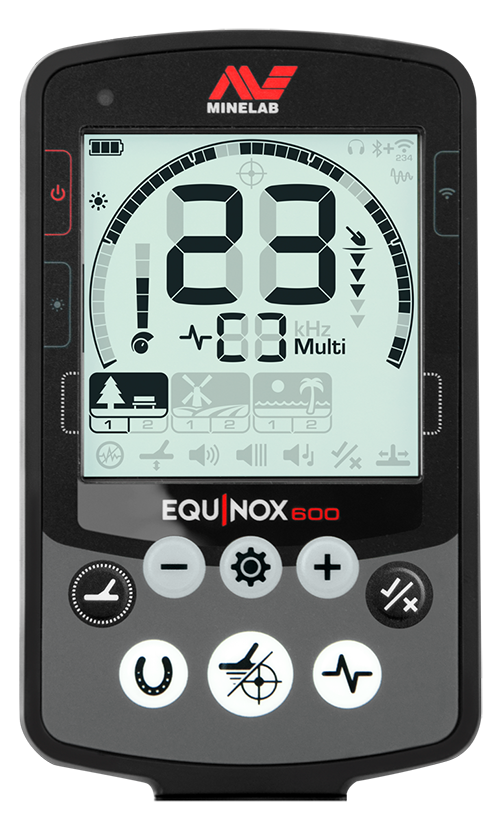 The clear LCD features large Target ID numbers so you can see your target ID at a glance. All of the information you need when detecting is right there in front of you.
Detect Modes and operating frequency can be instantly changed at the push of a button for a dynamic and uninterrupted detecting experience.
Using the EQUINOX 600 user interface, you can:
Change the Detect Mode, Frequency and Sensitivity on the go.
Create your own notch discrimination patterns to ignore unwanted targets.
Activate All-Metal mode to temporarily disable the current discrimination pattern.
Activate Pinpoint mode to zero-in on a promising target so that you know exactly where to dig.
Adjust an array of essential and advanced detecting functions including Noise Cancel, Ground Balance, Volume Adjust, Threshold Level, Target Tone, Accept / Reject and Recovery Speed.
View the status of your battery and wireless audio device connections.
Plus more!
Multi-IQ

Low frequencies give more depth on large targets, and high frequencies are usually more sensitive to small targets.
With EQUINOX you can operate across the full spectrum of frequencies simultaneously for maximum results.
Read more detailed information and reviews on our game-changing Multi-IQ technology on the Minelab 
Treasure Talk
Blog.

* 20 kHz and 40 kHz are not available as single operating frequencies in EQUINOX 600. The Multi-IQ frequency range shown applies to both EQUINOX 600 and 800. This diagram is representative only. Actual sensitivity levels will depend upon target types and sizes, ground conditions and detector settings.
---
Other Technologies

EQUINOX 600 offers 3 single frequencies of 5, 10, and 15 kHz, giving a 3-times range of 5 to 15 kHz.​
---



Maximum wireless audio compatibility – Connect conventional Bluetooth headphones, high-speed aptX™ Low Latency devices, or the ultra-fast Wi-Stream enabled WM 08 audio module. Wireless headphones and WM 08 Module purchased separately.
Specifications
Detect Modes………………Park | Beach | Field
Custom Search Profiles……..6 (2 per Detect Mode)
User Profile Button…………..No
Operating Frequencies (kHz)………..Multi, 5, 10, 15
Ground Balance……………Auto | Manual
Target Identification……..50 segment notch discrimination | Ferrous: -9 – 0 | Non-ferrous: 1 – 40
Threshold Pitch……………Fixed
Target Tones………………..1, 2, 5, 50
Tone Break………………….Ferrous
Tone Pitch…………………..Ferrous
Depth Indicator…………..5 levels
Length……………………….1440 mm (56.7″)
Weight……………………….1.34 kg (2.96 lbs)
Standard Coil……………..11-inch Double-D Smart coil with skidplate (waterproof to 3m/10′)
Audio Output……………..• In-built loudspeaker • 3.5mm (1/8″) headphones (included) • Bluetooth compatible • WM 08 Wi-Stream compatible
Headphones (included)….Wired 3.5mm (1/8″) headphones (non waterproof)
Display………………………..Monochrome LCD with backlight
LCD Backlight……………..On, Off
Battery………………………In-built rechargeable Lithium-ion battery
Battery Runtime………..Approx. 12 hours
Waterproof…………………Waterproof to 3m/10-feet
Key Technologies…………Multi-IQ | 3F×3 | Wi-Stream | Bluetooth | aptX™ Low Latency
Other Accessories………..USB Charging cable (1.5A), Multi Language Screen protectors
Software Upgradeable……Yes, via USB connection (Windows and OSX)
Warranty…………………….3 years control box and coil
PLUS
GO-FIND 66
Step up to the power, performance and ultimate technology of the GO-FIND 66. Go wild, find adventure like a pro.
Superior Performance
Advanced technology and innovative features for performance to the MAX.
Compact & No Assembly
It's easy. There's nothing to assemble and no loose parts that can get lost.
Ultra Lightweight
At only 2.3 lbs (1.06 kg), it's the lightest high-performance detector available*
Easy-Trak Automatic
Auto ground-tracking reduces noise interference and maximizes target signals.
Treasure View
Red = iron targets, likely trash. Green = non-iron targets, possibly treasure!
Treasure View
Know treasure from trash.
GO-FIND's Treasure View feature lights up to tell you what's trash or treasure down there. Get red LEDs, you've most likely found a nail or a key. Get green LEDs and you've found coins or jewelry. Dig away.
The Details
Advance your hunting to the next level. GO-FIND 66 is a serious, high-tech detector. It delivers precision, performance and maximum depth to unearth more treasure. Packs in a load of excitement and adventure, too. Hunt like a pro today.
Portability Collapsible Body
Find Modes 4
Search Coil Large (10-inch waterproof coil)
Treasure View 5 LEDs
Backlight Yes
Sensitivity 5 Levels
Volume 5 Volume Levels
Pinpoint Locating Yes
Bluetooth Yes
Smartphone App Pro Version
Smartphone Holder Yes
Digging Tool Yes
Earbuds Yes
Batteries 4xAA Batteries (not inc.)
Length Collapsed 21.9 in / 555 mm
Length Extended 51.4 in / 1305 mm
Weight 2.3 lbs / 1.06 kg
Camouflage Skins
We've got you covered.
Personalize your GO-FIND with easy to apply peel and press protective skins. Choose from two included skins to match the environment you're hunting in.
The GO-FIND app
Be in control of your GO-FIND, anyplace, anytime. The GO-FIND app keeps you connected when you're detecting miles from anywhere. Listen to your favorite music as you hunt, share your finds online and more.
GO-FIND with smartphone app. The future of treasure hunting in the palm of your hand.
There is the Standard App, which is free for GO-FIND 44 users.  And the Pro App, which is free for GO-FIND 66 users.  The Pro App is also available for GO-FIND 44 users through an 'In-App Purchase'.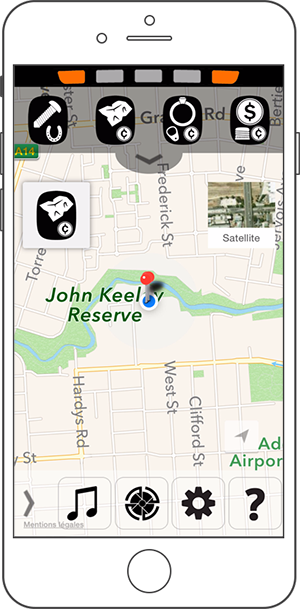 Identify common coins
View detector information & remote control the detector*
Listen to music and detect at the same time
Record your finds on Google Maps*
Customise detector and App tones
You can Add smart accessories
Detect in style with the right accessories. All are available to purchase separately, however the GO-FIND 66 comes with the earbuds, digging tool and smartphone holder.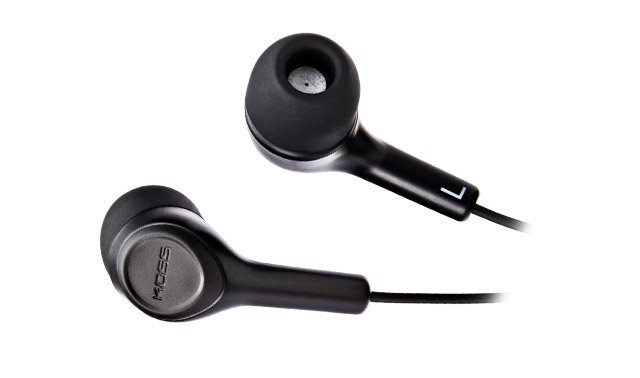 Earbuds
3.5 mm (1/8-inch) jack headphones fit all GO-FIND detectors and most smartphones.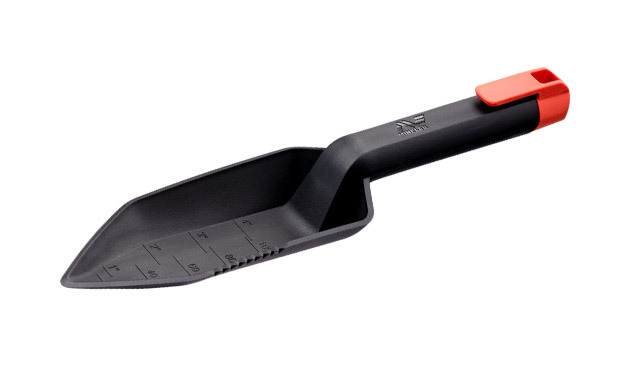 Digging Tool
Handy and tough, this metal-free tool won't be picked up by your detector.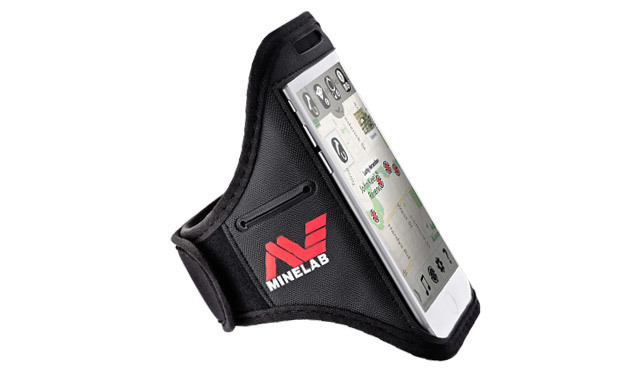 Smartphone Holder
Protect your smartphone while you're out hunting. Fits most models.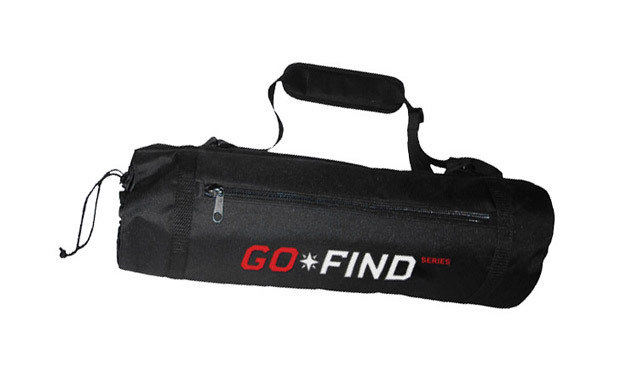 Carry Bag
Durable holdall for your GO-FIND. Handy zip pocket stores detecting accessories.
PLUS
BKJ IMPORTS 7 Piece Gold Panning Set
PN:GP5-KIT107
• 1Pc 13.1/4" Sifting Pan (Mesh Size: 1/2", Wire Thickness: 1.4mm)
• 1Pc 10″ Gold Pan, Dual Riffles (3″ x 1/4″ Deep Riffles, Micro Riffles), Plastic Body, Green Colour
• 1Pc 10″ 14" Gold Pan, Dual Riffles (3" x 1/4" Deep Riffles, Micro Riffles). Plastic Body, Green Colour
• 1Pc Tweezer With 5x Magnifier , Glass Lens
• 1Pc 8.1/4″ Plastic Snifter Bottle For Gold Panning, 4 FL Oz / 120ML
• 2Pc Glass Vials